Lucaille.com Shopping Experience and Wig Review
Lucaille is famously known in the local cosplay community for their vast catalog of high-quality wigs. With that being said, local sellers offer pre-orders of their wig for anywhere from P1500 to over P2000. It's a brand I've avoided because it was always so pricey, and I was always a cheapskate. (Why I can justify buying an Alpaca wig for almost the same price is beyond me)
But  then Lucaille opened an english shopping website with the same shocking Taobao prices. (aka CHEAP) Their short wigs are at 15$ (P600-700), their long wigs at 20$ (P900), which are all a far cry from the usual P1500-P2000 they're all sold for locally. The cheapskate in me cannot let this pass. We mean to cosplay Elsa and Anna (Frozen) and Jack Frost (Rise of the Guardians) this year anyway, so I decided to look at Lucaille.com for said wigs. It would be tedious to go on the hunt for on-hand of said wigs anyway. So find out how I spent just P3000 for three Lucaille wigs, and my review on the wig quality overall.
In case you're late in news, yes, Lucaille has an english shopping website–Lucaille.com
Simply sign up, and then log in. (Interestingly "Log In" is called "Now Landed") To successfully shop I believe you need to have Paypal.
From then on simply browse their wide catalog and then add whatever you see fit to the cart. All items meticulously have their weight given, so before you ask Lucaille "HOW MUCH IS SHIPPING TO THE PHILIPPINES????/1!!"  pay attention to the fact that the weights are put in, and your shipping cost WILL depend on the weight. Once you decide on all you want to buy, if you click "checkout", the system will show you shipping options and how much they will be (which all depend on the given weight of your orders) For reference, my three wigs cost 20$ to ship thru ordinary mail, and $24 to ship thru DPEX. (that is roughly 1000++PHP)
(…Srsly I find it funny that on Lucaille's Q&A page there are numerous questions that say "How MUCH is Shipping to teh Philippinez?!" when, on the same page, Lucaille has given the answer to that like five times. -___- Srsly Filipinos. Plz.)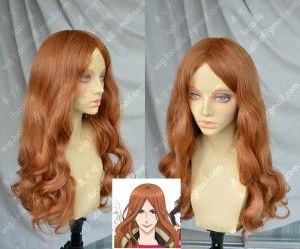 Tan Wig. Picked for Anna because it's the only wig in this color, which was the Anna color that I wanted.
For shipping, I higly suggest choosing DPEX. For an additional P200, your item has tracking, is delivered DOOR-TO-DOOR, and gets to you in THREE DAYS. (They say 5-7 days but heck I got mine in three days)The postal option neither has tracking, WILL be held up by the local post-office, and will take two-three weeks to get to you. Adding around P200 for all that convenience isn't much.
When your order is submitted, you can proceed to pay it thru Paypal. You'll be making a payment to "Dear Wild Wigs" (which is also Lucaille)
It's recommended you check your inbox within a day or after a day you submit your order–Lucaille will email you when something is out of stock and give you the option to cancel your order / get a refund for said item. This sadly happened for my first two options for the Elsa wig. Lucaille always responds to emails within 24 hours, as the time difference from here to wherever they are in China isn't too different. After them saying that "all long wigs of this color are out of stock and will be restocked March 30" (apparently everyone is trying to cosplay Elsa), I was terribly sad but then just decided to try my luck getting an incredibly poofy and voluminous milk-gold lolita wig. I thought I could just straighten the dang thing with much patience and then braid it.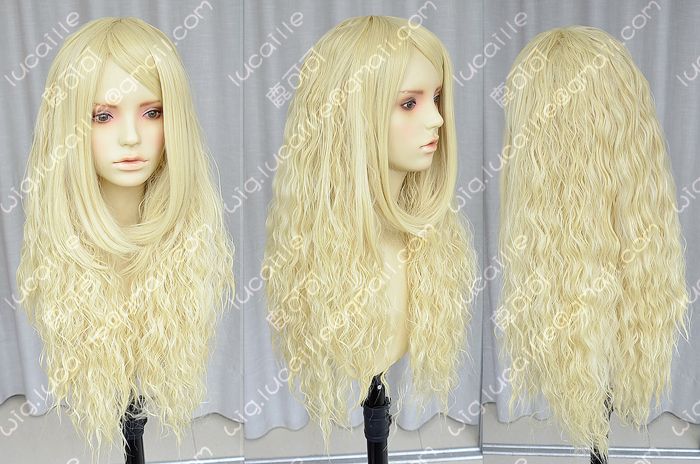 Milk-Gold Lolita Wig Seriously all the long straight or wavy wigs in this color, or any color remotely close to Elsa's, was out of stock. I had no choice.
Lucaille confirmed that the lolita wig was in stock, and then the next day said the items were shipped, and then sent me the tracking number. If you can set aside their Chinese-English (it may come off as "rude" because it's very blunt and straightforward, but remember they are not native English speakers), their customer service is very good. I hadn't had a problem understanding them, and they also never had a problem understanding me. The wig I ordered was promptly replaced with the one I chose, which means they understood, and they reply very quickly. Within the day (or the next day if it happens to be very late), they respond.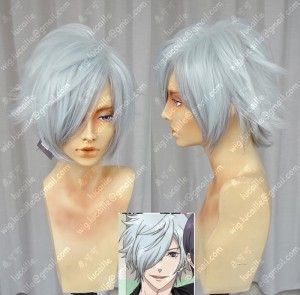 Silver/Grey/Blue Wig My brother's personal pick for his Jack Frost wig.
The item was shipped on March 7 and I got it on March 10. HOLY WOW THAT WAS FAST I WAS UNPREPARED. I was quite puzzled when someone called me on March 10 claiming to be a courier asking for directions to our house, and I was like, "But I didn't order anything due to arrive today" and then he said "You have a package from China" and I was like "ZOMG THE WIGS FROM LUCAILLE?! BUT ISN'T THAT SUPPOSED TO ARRIVE LIKE NEXT WEEK??!"
So, tl;dr — my shopping experience on Lucaille.com was quick, smooth, and easy, and I am seriously wondering why people even bother to order from a middle-man when this convenience that is their english webshop has already happened. I spent roughly P3200 for three wigs, which is not a bad deal considering a single Lucaille wig here goes for P1500-2000—and those are even secondhand ones. If you have Paypal you have no excuse to not buy from them directly. You probably have to buy three or more to really be able to save up though, as shipping costs may be high for just one wig.
So, yes, buy from their website. You'll be saving a lot for good quality wigs.
0o0o0o0o0o0o0o0o0o0
Now onto my actual wig review.
I ordered three wigs from Lucaille: One milk-gold lolita wig, one brown-orangey long wig with big curls, and a short male wig which is colored white, blue-white, and grey respectively.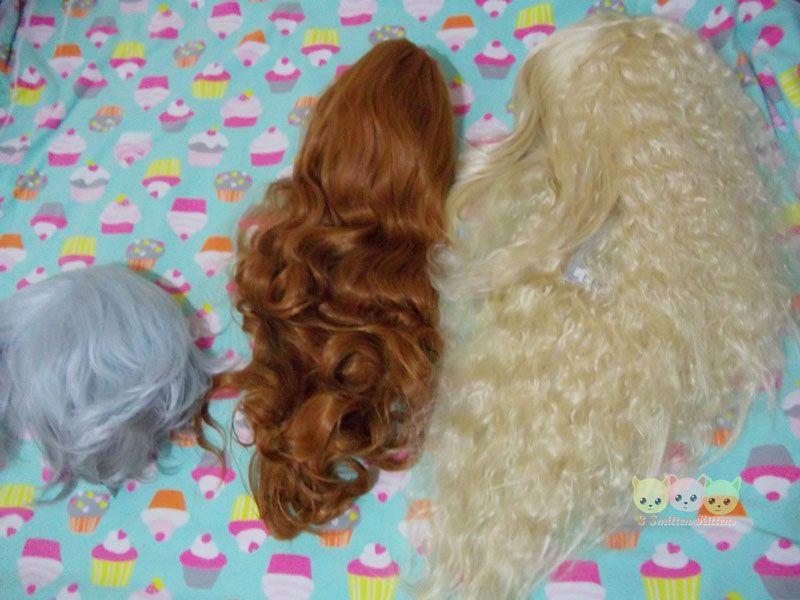 Here they are when I got them. The colors are very accurate and are exactly what I expected from what I saw in their website. I honestly expected everything to be darker, but it's not.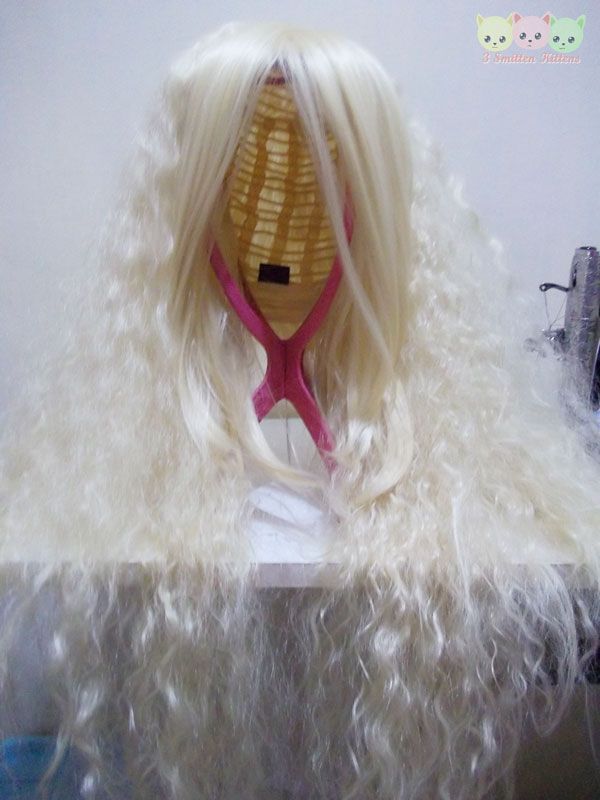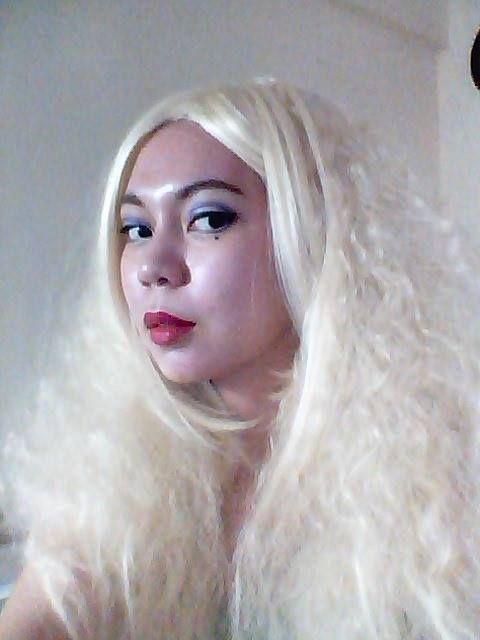 The wigs are all rather thick. I did not expect this much poof in the blonde lolita one, to be honest. The wig is already fluffed up when it arrived.
However since Alpaca is my only other branded wig (I do have a Purple Wings one but it's short so isn't much of a point of comparison), I must say Lucaille sheds more than the Alpaca, and the wigs came to me in a not-perfect state. The Alpaca one came to me without a single tangle, and you could literally run your fingers through it. It is probably because the wigs I got had curls, but for me Alpaca still wins in the "easy to manage and detangle" category. There is less shine to it compared to Alpaca though.
I seriously like the colors in this wig (which we mean to use for Jack Frost) as there is silver, blue, and grey all in it. Doesn't that color combo really just scream "Jack Frost"? And besides, I kind of dislike wigs that are just smack-dab one color–multiple colors add depth to it. And like how hot pink in a wig is bad for the skintone, a plain silver wig will also require some serious make-up for you to look right for that color.
Their female wigs come in the "normal" size, but their male wigs are rather big. For this wig, I have to really tighten it to make sure it fits me, although it really fits my brother very well. Guys do have bigger heads. =3= It's a nice consideration, as I have other short, male wigs here that aren't as big as this. The top of this is rather frizzy, though, but I understand that's to create volume.
So, in a nutshell, Lucaille wigs are:
High quality and thick
Are not shiny
Has minor, but very minor, issues with tangling and shedding, but nothing as bad as cheaper brands, and nothing some Stop Fraying can't help.
convenient to buy since they have an english site you can buy straight from
delivery to Asia is FAST
Responds to email quickly
Good price for the quality
Has a big catalog to choose from
comes with a brand tag so you know it's really Lucaille
I highly recommend shopping here, and when I need more than two wigs, I intend to buy from here again~! Have fun and happy wig shopping!
ALSO, after all the trouble I went through trying to find a replacement wig for Elsa, they released this wig! RIGHT WHEN MY ORDERS JUST ARRIVED!
Oh well!