Hullo world and off to another shameless post which has my photos everywhere! I thought for the starting month of the year, as I'm prepping for my 2014 Cosplay Plans, I might as well look back at my 2013 cosplays and what I learned from them this 2013.
Fire Emblem: Awakening Tiki costume worn on Fantasy Quest 3. Sewed in a week, it's quality in-person and the measurements aren't very good yet. I can do better. Perhaps one day I'll remake this.
Let's start with the positive lookback: I made 100% of all my costumes this year. Sure, they're a paltry three (or four, if you count the un-worn Marisa one) costumes BUT I MADE THEM ALL 100% BY MYSELF HECK YEAH. I don't mean to be elitist–I really am just damn proud of myself for having have done it all… and probably saving myself thousands of pesos in the process.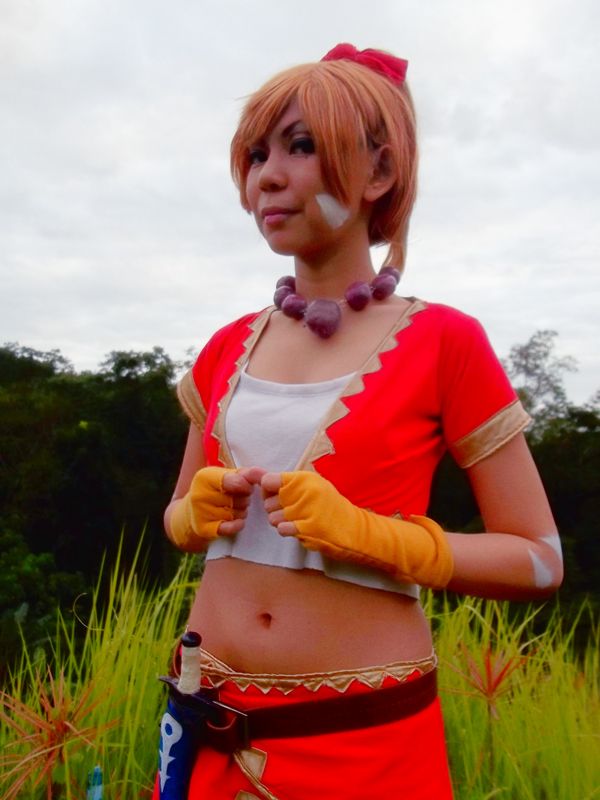 Chrono Cross: Kid Cosplay. Made entirely from a large old red t-shirt. The fabric stretches so it's forgiving when it comes to mistakes yet still photographs decently–except for the bad stitches I made for the triangle cut-outs.
My first cosplay of the year, Kid from Chrono Cross, was pretty much unplanned and spur-of-the-moment. My dad (who lives in the United States) sends us cargo boxes of clearance clothes monthly and our house is practically drowning in them. While sorting through the clothes ones, I found an abundance of HUGE red shirts. So I decided to make a costume based on red–and that you can complete with just taking apart one huge shirt.
Mum and I pooled money together and bought a basic, secondhand sewing machine. All itcan do is a running stitch so my seams and hems aren't properly sealed (with the lack of a zig-zag stitch) so unless I double fold in the hems or sew lining inside, the insides of my costumes are bound to look ugly.
I wore the Kid costume for Toycon. Pretty memorable experience–met fans and new friends… and also ran into pervs. But! The good outweighs the bad!
By July I attended Oh-No! Manga's convention in a totally derp self-sewn lolita ensemble. I don't have any good photos of the entire set–and I desperately need to sew a petticoat–so perhaps in 2014 this ensemble will return: bigger, better, and poofier!
In the photo is also my good pal Tzusa of Tsuza Art! I enjoyed partnering up with her this year and buying her art and merchandise. Just one of the cosplay friends I made this year!
My bro took photos of me by the seaside and in the Ferris Wheel shortly after the con–it's by far the laziest "cosplay" (not cosplay) I made with just a green wig and wearing a long-sleeved shirt. But the photos in these set are by far my favorites. I usually take photos in parks and foresty-places, so taking photos in a different setting with people around was pretty different. This also marks my first branded wig: an Alpaca wig. (Girl just had to get damn expensive Alpaca wig for her first branded wig lol)
I made this Fire Emblem: Awakening Tiki costume for Fantasy Quest 3. This costume was done in about a week, and this convention was a ball of sewing stress for me. I had a lot of commissions from my shop and was busy making things for others that I barely had the time to make my own costume… (an often true story) and then my older sister also wanted to cosplay for this convention, and being a tots supportive sister I took the fabric and sewed an entire costume (FE8 Marisa) for her in one day… and totally succeeded. And then she said she no longer wanted to wear it. -_- Anyway I re-sized it to my size and plan to wear it myself for 2014.
In the earlier stages of this costume, I close flimsy fabric for the cape and hated it with intense passion. I later found this beautiful satin that was thick and not-too-shiny AND on sale at the local fabric shop. I got a yard of it and used it instead. It looks gorgeous in person, but I found it STILL gives off shine in photos. 🙁
This was a really painful costume to wear because it's TIGHT AS HELL and I was still wearing a waist trimmer and an absolutely tight padded bra inside for cleavage's sake… And this costume was only possible because I had a red zipper on-hand that was as long as my arm and my entire dress. (This is really short and would show off my bum if it weren't for the cape. I have no plans to wear this in "ordinary" conventions due to that. Screw my desire to stay accurate to the length that I see the characters. How they manage to FIGHT in said costumes is beyond me. )
Fire Emblem Awakening: Anna Costume worn on Christmas Toycon. I sewed everything in about five days and am proud of how it turned out–although there are kinks I mean to fix. This also shows how unglamorous I am during conventions as that wig with two clip-ons at the back just keeps pulling the wig back and exposing my hairline… And those are the worst-cut bangs. Ever.
The Anna costume was a stroke of luck for me (considering she's the RNG/Luck Goddess… this makes sense). I sewed EVERYTHING in about 3-5 days on and off… Cape, trousers, tube blouse, and a neckpiece. It's missing gloves and the armor pieces (as usual of me) and I plan to complete them all by 2014. The story of this costume is quite a thing. I've been asking my mum to go with me to the seamstress for weeks but she doesn't have the time or won't oblige (it makes sense since I'm in my 20s really but I still need my mum xD). So in a fit of frustration I said SCREW IT ALL I'LL SEW THE DANG COSTUME MYSELF.
Duct tape body-double. I highly suggest you make one of these if you want a head-start on sewing. Dayum my body looks fiiiinee.
I was surprised of how easy it was. I initially wanted the seamstress to do it coz I was worried it was too difficult… and I wanted to have a costume that I could re-wear, so it had to have good hems and seams. I just put some extra effort sewing my seams. The duct-tape body double I made (with help of my mum) also made making patterns and taking measurements WAAY easier this time around. I often have trouble sewing sleeves and armholes (lack of french curve for making patterns) so I decided to avoid them altogether by making the top a tube top with detach-able sleeves. My mum was proud of me. She said it was a good thing she never had me go to the seamstress. I saved hundreds of bucks and gained experience.
Maybe my 2014 Cosplay New Year's Resolution should be to not skip on making the dayum gloves. Can I just say how much I HATE making gloves?! xD So much trouble for such little things! But I found good patterns and tutorials for it so I HOPE next year I get into glove-sewing mood.
I've literally seen how I progressed with my sewing with each costume set I made. I sewed Chrono Cross' Kid out of old scrap t-shirt fabric–and spent weeks doing such short clothing, until late this year I made Fire Emblem: Awakening Anna's costume entirely from scratch in a matter of days–and sewed trousers for the first time and pretty much got it right off the bat.There are still many, many, MANY things I ought to work on in my sewing, and gods know I probably just got lucky with Anna, but I'm hoping come 2014 I can sew all my costumes myself again… and hopefully branch into armor!
So for 2014, I want to keep challenging myself by making costumes that I can sew all by myself! That and to take photos of costumes I already have in a good/appropriate surrounding. I plan to improve the current costumes I have, so you might still see them on me for 2014–no one says re-wearing costumes is a bad thing! I also want to cosplay more with my brother and sister–they're my best cosplay buddies and companions! Most people hang out with pals through cosplay, but for me it's a family sort of thing. My siblings and I watch and play the same games together, so seeing those characters come to life together is a great experience.
I do wonder if I should expand or make a page for my cosplays or something–I'm very private and it's awkward having all these cosplay-related friend requests on my personal account that I do not intend to accept. I often just experience conventions with family, and don't hang out with fellow cosplayers or even have photoshoots with others. Perhaps it's because it's difficult finding cosplayers who are into the same fandoms. Maybe because I also work at home and am buried in work when I'm not struggling to finish my own costumes. The side effect of me making everything by myself is that I have to find time for it–I often just finish everything a day before the event. Between running my company-in-the-making work and that, I can't go out and hang out with others as much as I want.
I hope you kiddies who have the money, free time, and resources to spend on cosplay learn lots from it, and make experiences and friendships that are worth keeping for life! 
How was your 2013 cosplay journey? Any 2014 goals yet? Let me know!
 xoxo, Aki / kageshoujo