Hey everybody! To make up for not being able to blog last month, I have a jam-packed list of articles that I have here that I hope to all be able to publish this month. It's been quite crazy for me recently, and things have been chaotic with the shop. I must admit I ended up depressed a lot of times, and stormy weather doesn't help any. I am a gal that always prefers sunny days.

But personal stuff aside, today I am posting a short DIY armor tutorial for Sintra. I got a commission for minor armor for the character Lucina from Fire Emblem: Awakening (pictured above). I do not often and barely accept commission for armors and weapons, except for good friends and when I actually have materials I can work with. I meant to make the armor with foam x Wonderflex before, but craft foam was sold out in every shop I went to lately. D: Until I saw that Sintra is finally available off store shelves in National Bookstore. Its the preferred material of many cosplayers overseas.
Sintra from National Bookstore costs P65 for 1/8 illustration board size, and P135 for 1/4 illustration board size. I buy the smaller ones because they are easier to carry and there's only a P5 difference. =_=
Before I start with demonstrating how I made the armor for Lucina, here are some basic Sintra tips:
Sintra is heat-formable, but dont expect it to expand or flex the way thermoplastics do; if anything else it shrinks and curls up into itself when overheated. When its reached that state it is practically impossible (or possible but extremely tough) to flatten it out again to its original state, so slow-but-sure is the method to heating it up.
However, once its heated up, it sets and cools down again almost instantly. Okay, not instantly, but in seconds. We are talking around only less than one minute working time here. Once you heat it and its bendable, you HAVE to set it to the shape you want immediately–or else it'll cool down and harden on you, and because of problem #1 above we don't want to heat it too often. If you aren't used to handling hot material, get some work gloves ready.
It can only curve in one direction, and its flexibility isn't wonderflex/worbla category. Don't expect to be able to make boob-armor out of it; however its highly recommended for armor that only has to curve in one direction, like arm guards or leg armor.
Sintra expands/thickens when heated, so its sturdy on its own and needs no supporting material. It also has a coating which makes it water-resist
Unlike wonderflex/worbla though, the scraps aren't moldable and I can barely come up with an idea how to use them. They are just scraps. =_=
I assume you have a heat gun. Its a great investment if you want to work with thermoplastics and prop-making materials. They are easily bought in hardware stores in malls (ACE Hardware, Handyman, True Value) and cost between 1.3k-2k.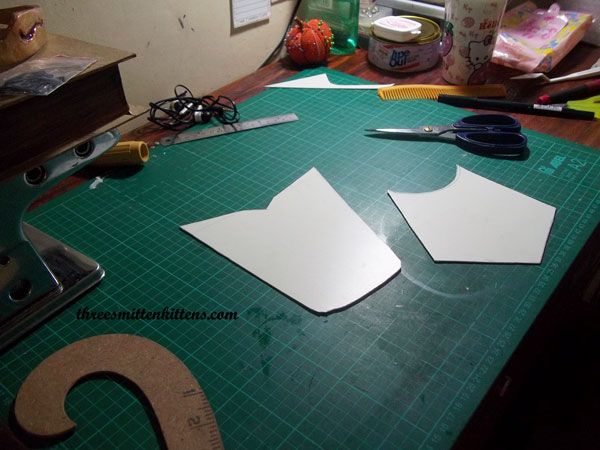 First off, like with anything I do, I start off with a pattern. Because Sintra cannot curve in two directions, I am opting to make the raised part of the armor a separate piece from the bottom part. I'll show how to make it look like one seamless armor piece later.
For making a pattern, just sit down and imagine how your armor would look like when its laid into a flat sheet. You can also press the pattern paper against your arm/leg/wherever you're making armor for and draw a rough shape on the paper and then just polish it out.
I then trace the pattern onto the Sintra, and then cut it out. Use sturdy scissors as it can be a bit tough to cut through.

Take out your heat gun and for the flat pieces into curved ones. I take it slooowly but surely. I first heat the middle section where the curve is at its highest, curve it there, let it set, and then gently work my way from the middle towards curving the ends.
Remember that it sets almost instantly, so be quick! Use the lower heat setting on your heat gun too, to avoid overheating it.
Once the two pieces–top and bottom are curved--I position them together at an angle and then glue them together with industrial-strength glue, also holding them in place with some clamps so they are able to dry properly while holding the shape.
One thing I like about Sintra lots is that it thick and sturdy on its own–no need to support it with foam unlike worbla or wonderflex.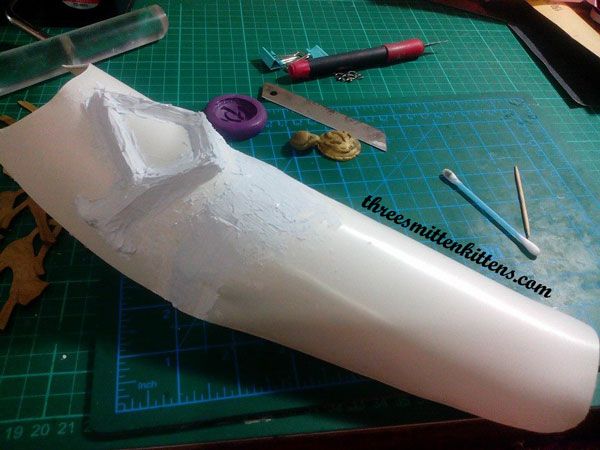 If you notice the parts where I glued the two pieces together is obvious, but the look we are going for is one seamless armor piece. So I fill in the seam with some wall putty.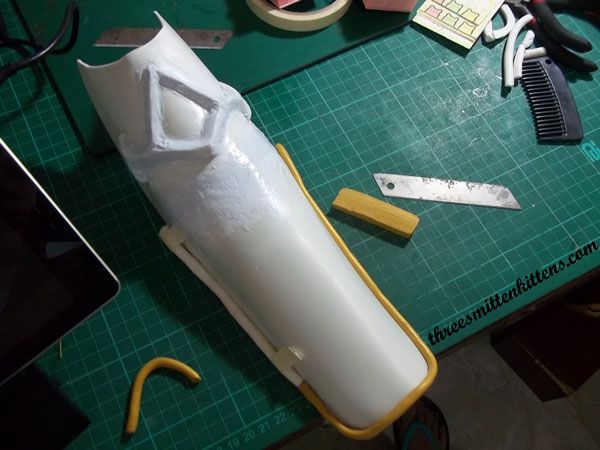 By this time I also make the raised details on the armor. I used molded wonderflex scraps, and flexible polymer clay for them. If you want to use polymer clay, bake it on its own; do not put the sintra in the oven with it–the sintra WILL collapse in the oven heat.
More putty over wherever I can put putty on, and then sanding.
Sintra in itself doesn't need to be primed before painting–its already got a great finish for painting, so putty only over the areas you want to smooth out. It's one other advantage of Sintra–no need for lots of prepping before painting it.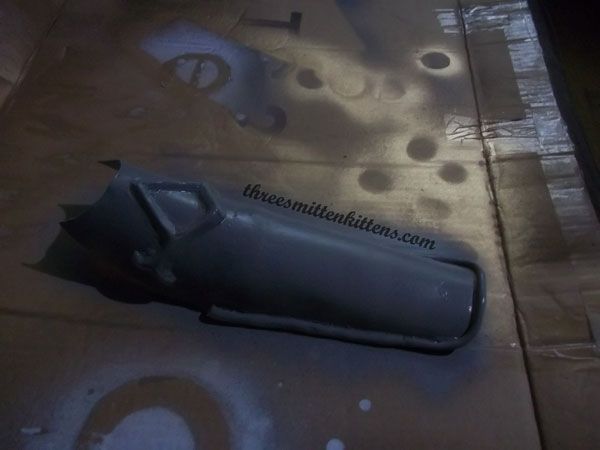 Bef0re I spraypaint this spraypaint-primer on it, I use Diamond Glaze over it, concentrating on the gaps and cracks that there may be in the putty. I am lazy like that haha. Diamond Glaze is a 3-Dimensional gloss/adhesive. I use it to glaze my clay creations, but since it dries with a raise/3D effect, its almost perfect for making surfaces smoother and level, and filling in cracks. Diamond Glaze can be bought in special art shops.
Then I spray it all with this grey-colored acrylic primer. I love how this primer is grey; for me it creates a better base for metallics like silver instead of a white primer. My blue spraypaint was also a little to bright for the color I need so a darker primer works great for me.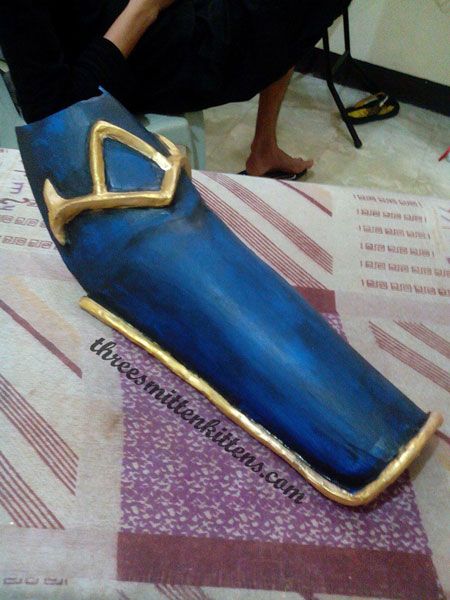 Then I just spraypaint with gold and blue spraypaints. You know, cover the parts I don't want painted on with masking tape so they don't get the color, spray, rinse and repeat.
I dry brush black acrylic paint onto it afterwards to give it depth, and a more "used" look.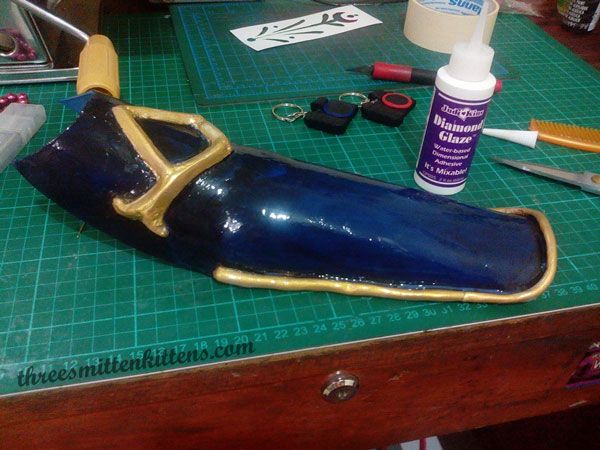 Afterwards I seal it all in and gloss it using more Diamond Glaze. There are also other projects I was working on there on my table, haha.
So that you're able to wear it, I sewed these black straps with Velcro, and attached them to the armor using Fabri-Tac and Wonderflex scraps to seal it in place. :3
Overall, I had a blast using Sintra, and would recommend it for basic armor DIY projects like these for those that want to get crafty. It has lots of pros going for it–its cheap, but lightweight and sturdy. Its practically as thick as an illustration board but its WAAAY much sturdier, and is waterproof even. There is less need to prime it for paintjobs.  There are limitations to what it can do, but for what it CAN do, its an excellent material. I recommend it for basic armguards or leg armor.
Apart from National Bookstore, you can also easily buy these from art shops in Recto or along España. Good luck!