HELLO EVERYONE! Today I bring to you a new blog series: Cosplay Sewing for N00bs! (aka newbies/beginners) When I started sewing, I made a lot of booboos and wasted a lot of time and fabric before I got to where I am now. I want to save as many people as I can from that heartache, so I decided to blog about basic sewing for cosplay.
In our first episodes, I'm going to discuss tools and equipment. If you're looking to sew your own costumes, your first step is to go shopping! Fun! Before we go list down all the notions and fun thingamajigs you should get, we're going to the first and primary item you need to get started–the Sewing Machine. I've seen a lot of people make booboos and waste money on this essential item so I will dedicate a whole blog post to it.
The Sewing Machine is the heart of sewing, and without it you'll be stuck hand-stitching. You've probably browsed sewing machines on sale and are pondering which one to get. Sewing machines can be quite hefty on the pocket, so it's important you get real value for your money.
Here are some types which are commonly available in the Philippine market:
0o0o0o0o0o0o0o0
Traditional Sewing Machines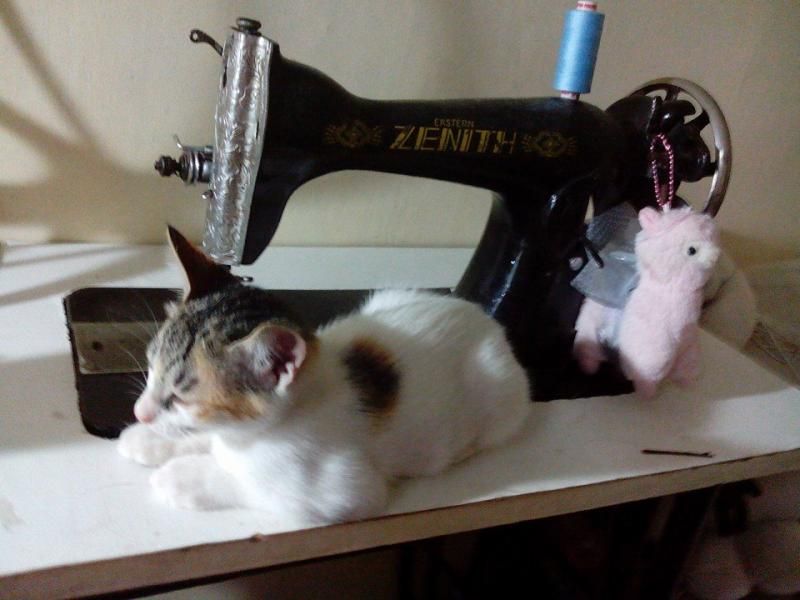 My cats like sitting beside my sewing machine to rest or even on top of my fabric when I'm sewing something. -___- I got this sewing machine (secondhand) for P2500. Brand new units from Singer cost P4000.
I ALWAYS recommend getting a traditional "old fashioned" sewing machine, especially for beginners. A cheap portable sewing machine may be inexpensive, but it breaks down in less than a year. A "for realz" electronic sewing machine (the ones from Brother or Singer) is expensive and may be overwhelming for the beginner since it has many functions and buttons and all that. Traditional sewing machines are at a good price range and lasts almost forever. Even if you totally suck at sewing costumes and give up (lol) your future daughter or granddaughter will at least still be able to use the machine. xD
I grew to love the simple, straightforward machines of the old times. I'm even using a secondhand basic one with only a running stitch, and I've never had to have it serviced! The stitches that it can't do can be compensated with handstitching and other stitches anyway. It may take more time especially if you want your seams to be really neat, but its just an exercise in patience for me.
It doesn't use electricity which is good for the bills and pedaling it by foot means I can control manually how fast or slow I want it to go.
They are real value for money, so if you can buy one, please do. If you are buying a secondhand piece, make sure to bring along a friend or relative that knows what to look for and can troubleshoot small problems. So far with my machine all I had to do was replace the belt.
Fortunately I live in an area where there are still a lot of people making a living by sewing (most sew curtains and pillows and rags), so there is a shop that specializes in selling old sewing machines, servicing them, and selling spare parts. According to my mum, there are also dedicated shops in Quiapo and Divisoria for traditional sewing machines.
0o0o0o0o0o0o0
Modern Electric Sewing Machines

The Singer Promise Electric sewing machine, P9,990 at Lazada.
The new electronic machines from Singer and Brother work splendidly as well! The traditional ones may no longer be available in your area (and in some countries they can only be seen in museums) so if you can't get your hands on a traditional, your next best bet is to save up for an electric one. I have friends who use these machines and make amazing costumes.
It's a big investment, so make sure your heart's really in it before you take the leap. The most basic sewing machines from Brother/Singer will cost you P8000-10000 already.
The good news is there are a lot of functions and built in stitches to these machines compared to the old fashioned ones. They often have added accessories like different feet and such. There are functions for easy sewing of buttonholes and there may even be basic decorative or embroidery stitches. It may be overwhelming for a total newbie, so I recommend taking your time getting familiar with your machine and trying out all the functions. Going to the showrooms of the machine brand will also help out–have the product demo'd to you by a knowledgeable staff. Its a continuous learning process so keep reading and watching videos to make the most out of your machine.
You can also read PLENTY of reviews about the particular machine name online. If you've set your eyes on something, remember the model name and Google reviews on it.
If you've made the leap and purchased, make sure you keep your receipts and warranty and know the nearest service center. There are lots of cool functions and capabilities with these machines that you can explore, and you will probably still be finding a new thing or two about it after years of purchasing it.
 0o0o0o0o0o0o0o0
Portable Sewing Machines

"Mini Electric Sewing Machine", P879.00 on Lazada.
I'll be frank–whatever you do, don't buy a "portable sewing machine". EVER.
If you want to seriously sew even just a seifuku, don't buy these, EVER.
Don't fall for the trap.
I call it a 'trap' because the cheap price reaally isn't cheap in the long run–as the machine won't last a "long run". Be wary especially with cheaper models. They are often entirely made with plastic–even the parts and mechanics inside. This means that it's more likely to wear and tear and not last long and malfunction. Basically the more lightweight something is, the more you will want to avoid it.
There is also another trap–most demos will show that these machines can sew through any fabric–leather or denim and whatnot. This isn't true. The demos only show one layer of fabric–and what in the world can you sew with just one layer of fabric?! It's not going to pedal through two layers of thicker fabric, so forget about hemming denim with it.
I started out with a portable sewing machine, the one often found at department stores, which cost me P3500. It's a sturdier unit than those you see sold for less, but it just lasted a good one year. The first year it was functioning well, but by the second things kept snagging and I couldn't stitch a straight line in peace as something would always go wrong. The most I used the machine for was alterations and accessories. I lost enthusiasm to sew because I thought I just sucked and I had no talent for it.
But then we bought a traditional machine, and BAM. I was sewing faster, neater, and more efficiently. I can finally sew a straight line -___- . I thought something was wrong with me, but nope, it was just the poor-quality machine. It's a waste of money. Honestly had I known better then I'd just have added P500 and bought a brand-new Traditional Singer.
Another downside as these items are mostly imported from China or wherever, if you lose any of the parts, you are going to have one hell of a hard time finding new ones. They also don't have service centers locally.
This item is most likely candidate for getting stuck in one dark corner of the house and gathering dust.
You may think I'm being harsh, but I seriously mean it.I had one. I tried it. Don't waste your money better off put into saving for a real sewing machine and not these plastic junk. In some cases an old fashioned sewing machine is cheaper than this and lasts much much longer.
If for some reason you wish to buy one, the cheapest deals are in Quiapo and Divisoria. If you have access to those areas, avoid buying them online.
0o0o0o0o0o0o0o0o
So there's my basic, dirty opinion on getting your first sewing machine. A sewing machine makes or breaks your sewing experience. If you end up with a crappy one, there's going to be more swearing and pain than actual sewing, so I think you should take your time and find one that you know will be a great companion in life and your cosplay adventures. I hope the tips also helped you and will ultimately lead you to finding "the one" machine that is for you.
Next episode in the sewing saga, I'm going to discuss the rest of the notions and thingamajigs you'll want to have to start your sewing kit. Eventually I mean to guide you through simple sewing projects, from the simple schoolgirl skirt, petticoat and blouse. Please comment if there is something you'd like to see!
Good luck!
– Xarin