MACARONS ARE FAMOUS worldwide not only as a tasty treat, but as a fashion statement and an absolute staple when it comes to fake sweets crafting. Today I'm going to show you how to make a macaron out of polymer clay, a project easy enough for beginners and still enjoyable for crafters of all levels. Here comes our polymer clay macaron tutorial!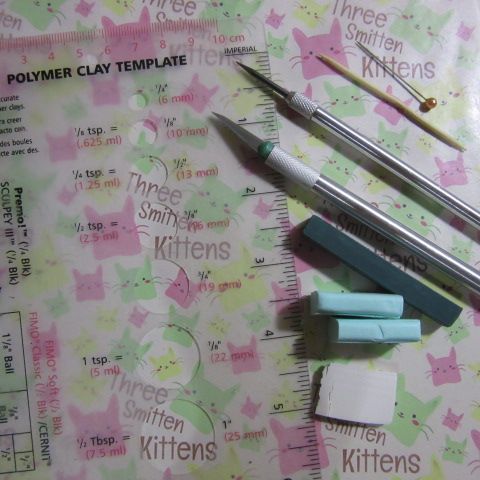 Materials:
Polymer clay for the macaron shell. I'm using Mint from FIMO Accent, but use any color you want!
Polymer clay for the macaron filling; I'm using Flexiclay 3 White.
Polymer clay template. Optional, but helps a lot. You can easily substitute it with a circle cut-out from paper. Cut out a circle that's as big as you want your macaron shell to be.
Craft Knife
Chalk Pastel, preferably a color darker than the color you're using for the macaron shells. Optional, am just going to use it for a more realistic look.
Toothpicks, needles, or other pointed tools for texturing
Old toothbrush. Optional.
Any object with a flat top that can be used to press your clay. Can be your own acrylic roller.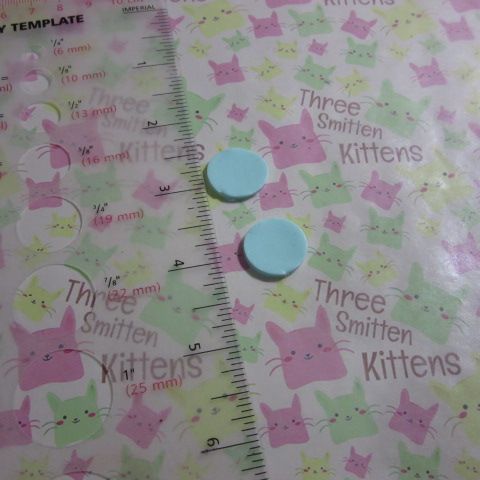 Condition the mint clay and then roll out an even sheet with your acrylic roller or pasta machine. Thickness depends on the size of the macaron you are making, ideally 1/3 or 1/4 thickness of your shell. Cut out two circles of the size that you want your macaron shells to be. I use 3/4 inch diameter. These disks will be the "feet" of your macaron. Set aside.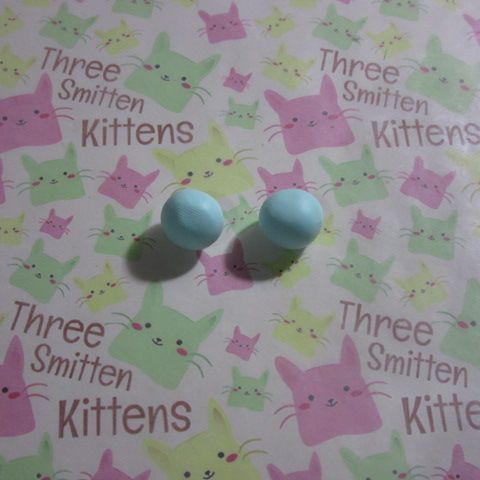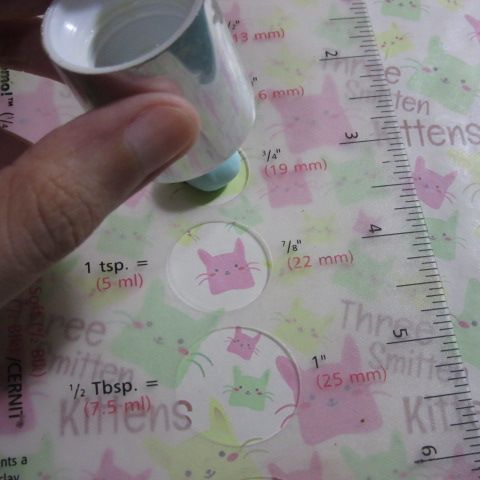 Prepare two balls of polymer clay of the same size.  Using any object with a flat, smooth end, press each ball down into the same size you made your flat disks earlier. Make sure the clay is conditioned well so there are no cracks when you press them down!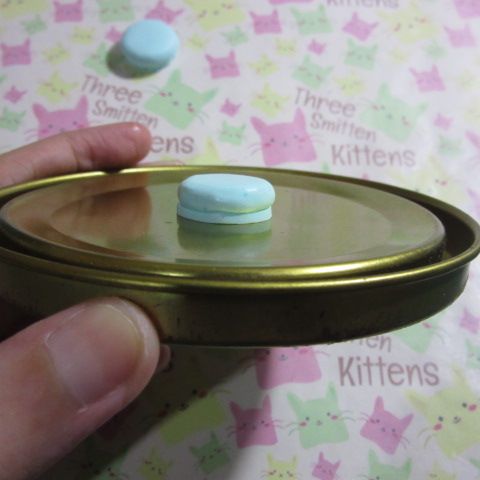 Layer this flat-top dome and the flat disks you made from earlier like so.

Using pointed items, like toothpicks or needles, add texture to the flat disk part (the "feet" of the macaron) by swirling your needle/toothpick around and just making random movements. It will make "crumbs" in the surface, to imitate what the feet of a macaron look like. (yes that part's called the "feet")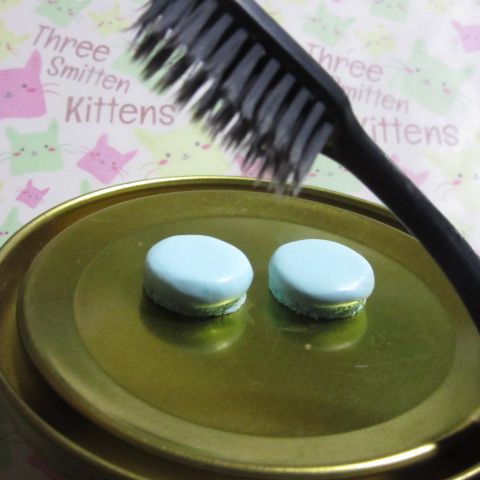 To add texture, you can take an old toothbrush and roughen up the top shell, for a more realistic look. If you're going for the smooth look though, you can skip it!
I like to bake my shells after this step, to preserve the texturing on this feet. Too much handling can make you lose the "crumbs", so I like to bake it as soon as I can. I also like to just make many shells in one go and store them, adding the filling later.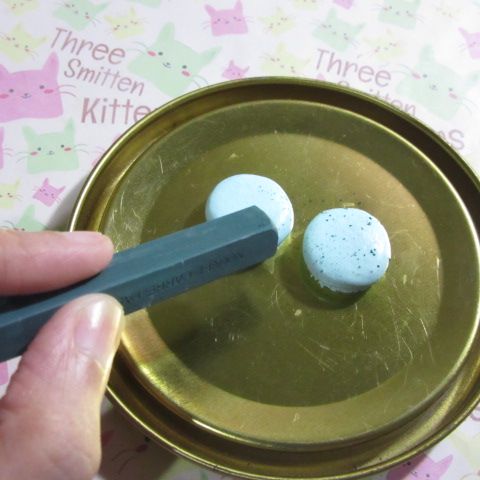 When it's baked and cooled, again, for a more realistic look, brush on some sealer/gloss (I use New Future gloss) onto the shells and scrape some chalk pastel with a craft knife onto the macaron shells. The still-wet sealer will help the chalk powder stick to the shell. When the first coat is dry, brush with it another layer of sealer gently, as to not rub out the chalk pastel. I find real macarons sometimes have darker sections in them and are rarely as smooth and perfect as decoden ones, so I decided to add "spots" to mine. Some macaron flavors also intentionally have this look–say, chocolate orange macarons. But if you're going for the smooth look, feel free to skip this as well.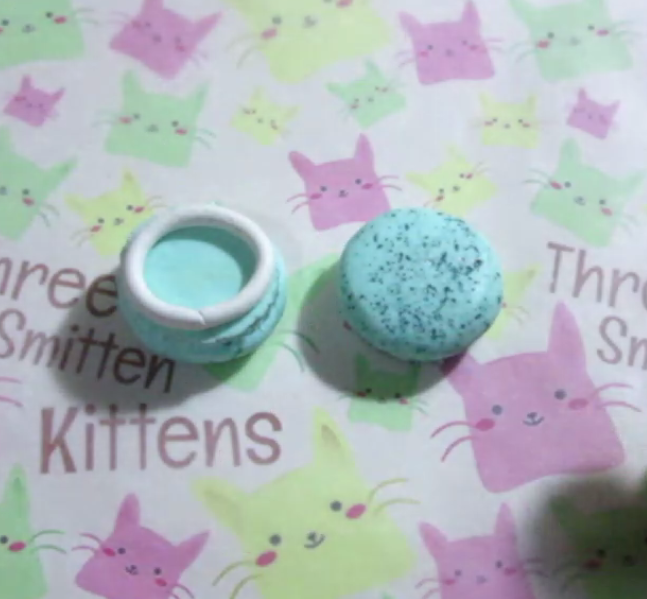 Roll out your white clay into a long, thin log. Make it as thin/thick as you want the filling to be. Take this log and cut it up just enough to go around the macaron. This will be the "filling"–it's ok if it's hollow inside since no one will open it up anyway! Finally put the two shells together sandwiching the filling inside. Put in any metal findings like eyepins at this step.
Apart from clay for the filling, there are alternatives like silicone icing, or air-dry decoden icing that are available in specialty craft online stores.
Bake again~ And you're done!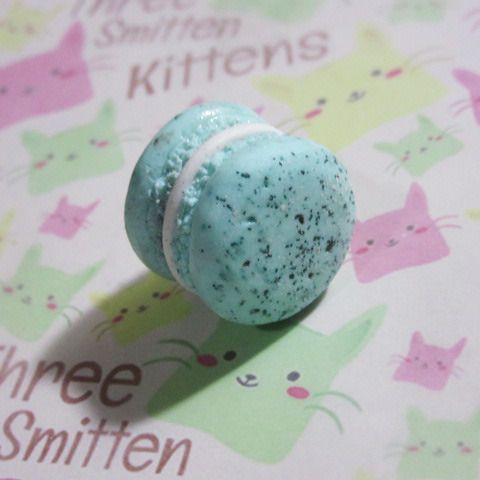 Have fun!