Hello to another construction note entry from me! This time, I'll be walking you through how I made my Ace Attorney: Maya Fey costume. It's actually a pretty easy project to tackle; Maya's outfit is meant to be loose-fitting, so accuracy in fit is not much of an issue. The colors are basic with no prints, so there's little need to match up things. You can also complete the cosplay in a matter of a few days, even if you're an amateur. I hope this entry helps you with making your own Maya costume!
First, let's start off with the pattern for the kimono top. Before proceeding, I'd like to tell everyone I'm no expert in drafting patterns and took no professional classes; I make things based on instinct and just observing how clothes are made. My way may be technically incorrect, but they work for casual costuming. So that also explains why there won't be technical sewing jargon here, and why the pattern draft I'm showing is very… raw. xD
I drafted a one-piece pattern that only joins at the shoulders, as opposed to a four-piece pattern. This is kinda more authentic to what she's really wearing, and let's face it; seams are unflattering. This pattern joins together at the shoulder seams only.
The whole garment is based off of the widest measurement in your body that the garment will cover. For mine, it's the hip measurement. If your bust is bigger than your hip, you should be basing this measurement off of your bust instead. The other measurements needed are the whole length of the garment (I had it fall to my mid-thigh) and armhole measurement.
I just basically joined it at the shoulder seams and turned the armhole allowance and sewed it down. For strip down the front of the kimono, I cut out a long rectangle of fabric, folded it in half, and used it to encase the raw edge of the garment.
I added some darts to give it more shape, instead of something that was entirely loose.
I WILL PROBABLY EDIT THIS ARTICLE AND GIVE A MORE ACCURATE PATTERN SOMETIME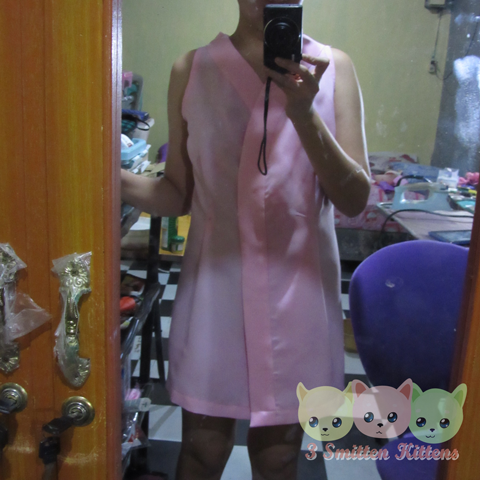 I regret not having photos to show you the process… xD
The purple cardigan/jacket thing on top of it was made with the same base pattern as the kimono, but of course with sleeves, and the front parts were edited so that they don't overlap each other. I made them slightly less wide, so that the front part doesn't close all the way, like Maya's own purple throw jacket thingy.

The red sash was one big strip of rectangle that i just tie/knot into place. The red bow that goes with it was a detachable bow that I just pin onto the sash. Because I can't knot a pretty bow even if I tried, so I thought it'd be more convenient of the bow was detachable.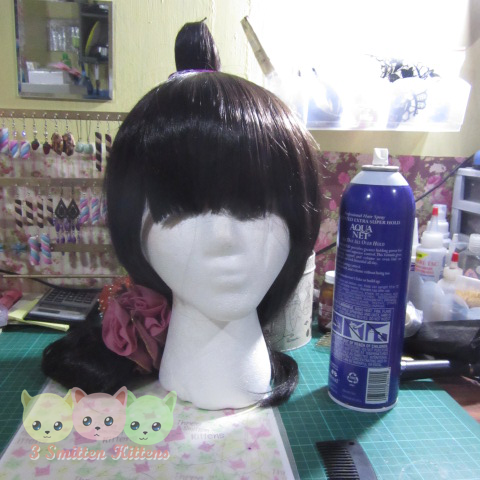 The wig was honestly fun to style! Okay it was frustrating at first, but then I figured how to get that neat topknot. You'll have to use barettes–the ones that have a spring-like thing inside?! Not that ones that you snap shut. This evenly distributes the wig fibers into a wide section, as opposed to just one section if you tie it with an elastic. I used two barettes, and sandwiched the topknot in between those, to get it to stay in place. I used purple polymer clay on the barette fronts, to match the ones Maya is using.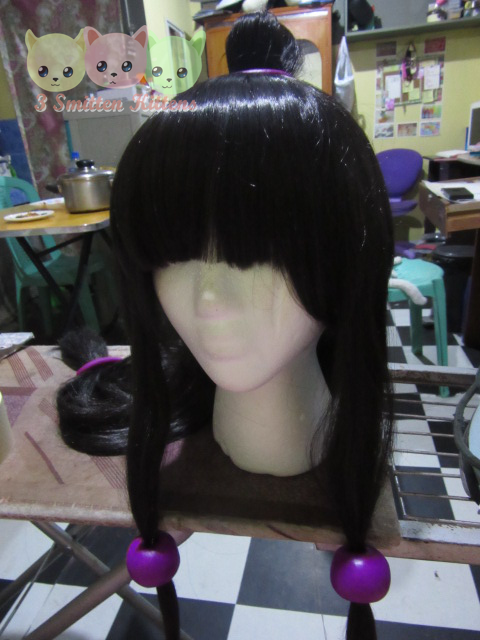 The round hair orbs are also made from polymer clay. I used Ultralight clay inside (so it doesn't weight too much), and covered it with Sculpey's purple, and then punched an hole through the orb with a stick or whatever you have on hand. How do I get it to stay on the wig? First, you have to section the hair and tie it around the part you want the orb to stay with hair elastic, and then slip the orbs over to those elastics. The orbs will grip the hair elastics and stay in place.
The magatama necklace was also made with polymer clay, the bigger orbs made with Ultralight. I threaded them with nylon string (the transparent fishing line stuff apparently?) to create the illusion that they're floating, because Maya's necklace in all her art is like, where's the thread holding them together?!
The wrist bracelets were red bias tape strands that I just knotted into place. xD For makeup, I made it light, and "barely-there"–just focusing on clear skin and bigger eyes. I didn't even put on falsies! They will just be covered up by her bangs haha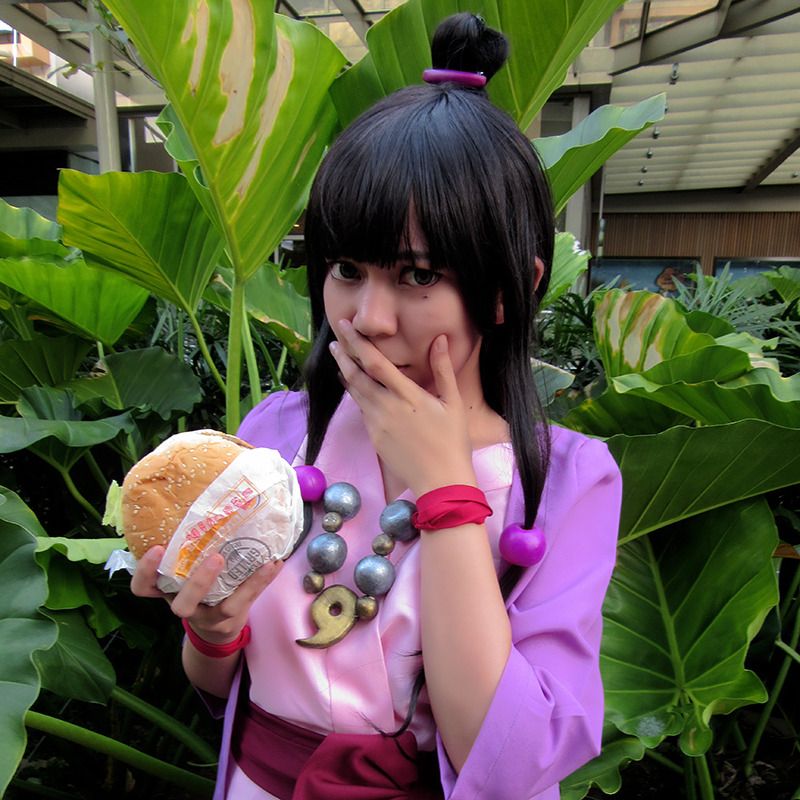 So I think that covers it! Find your Nick, get ready to hit the courtrooms, point fingers, and yell "OBJECTION!"
Feel free to ask anything in the comments!
xoxo, Xarin