THIS IS A VERY belated post from Ozine Fest 2014 last April! It marked my older sister's debut into cosplay, as well as my brother cosplaying again for the first time in years. My sister or brother would often accompany my to events and conventions just to support me or cover the event. Just like me, they like seeing people play dress-up and bring characters to life.
They came there as Elsa from Frozen and Jack Frost from Rise of the Guardians!
My sister always wanted to cosplay and yet, for the longest time, wasn't able to decide on a character she wanted. She'd often try to find costumes that were just impressive and flashy, but I encourage her to go for a character who she knew and genuinely liked. Well, when we saw Frozen together and she saw Elsa's transformation, she suddenly burst out "I want to cosplay Elsa!!" while we were watching. So yes, that decided things. I was pretty interested in figuring out how I'd put together Elsa's costume too anyway, so I decided it'd be a fun challenge. And I could go as Anna!
My brother has cosplayed a few times before, but he only likes to cosplay when he sees a character he is truly into and relates to in a personal level. When my sis and I agreed on our Anna + Elsa plans, we were trying to figure who to pick for my brother. Prince Hans? Kristoff? But his frame didn't really suit either, and he said he didn't like any of the guys in Frozen anyway. Until one day surfing the internet he remembered his fondness for Jack Frost and told me about it, and whoopeee, our trio plan was complete!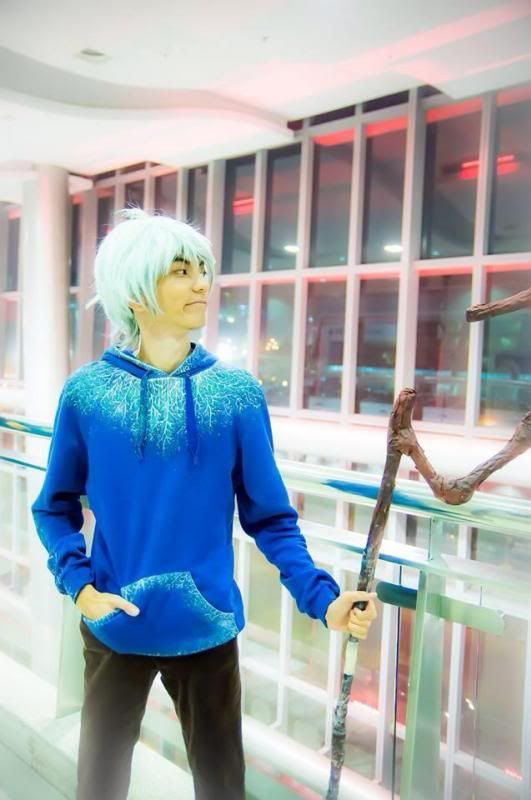 The Jack Frost costume was a lucky find; we saw online that cosplayer AJ Cross who was selling his pre-loved set. It was very well-made too, so my brother and I were happy! All I really did for Jack was style the wig.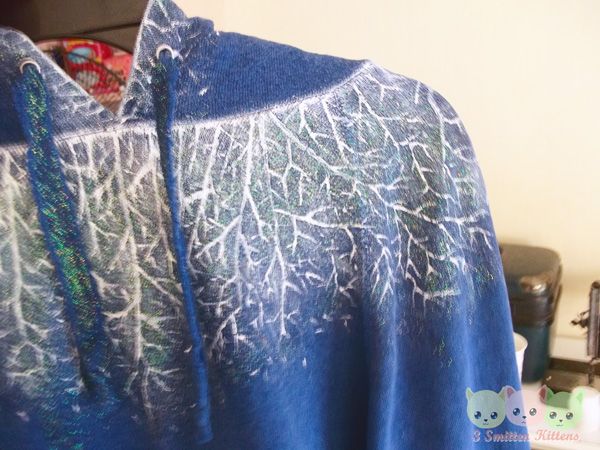 There were glitters and very accurate patterns handmade by AJ Cross Cosplay. Must've taken a lot of time and patience!
And then I started the tedious process of making Elsa's costume… And I did it in five days or so. It was a simple skirt which was a sheer dark blue with silver glitters on it lined in light blue. It was sad as the details of the fabric are lost in photos, and the photos screw up their color, so I probably should have opted for a similar color to the corset. …And my sewing skills are still amateur. xD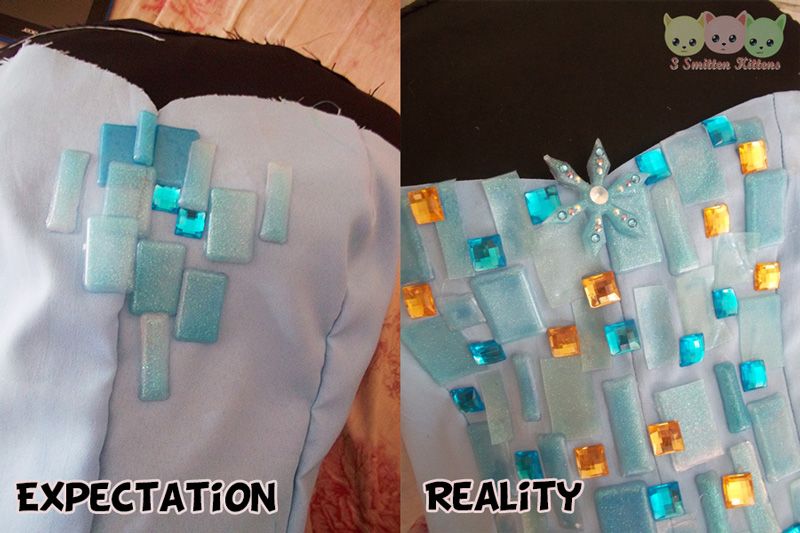 For the corset-type top, I was debating of what to make the "icy-shinies" on them with–I bought some sequins, and some acrylic stones, but then I experimented and decided that my snowflake resin mix was most accurate for the frosted ice look. However the expectation was to cover it all in resin rectangles, but the reality was that there was no time given that the material takes a day to cure and that's only for a few dozen pieces–and I needed hundreds of them. Didn't have time to make so many. So I spaced 'em apart and added the acrylic stones.
The stone-studded snowflakes and snowflake hairpins can be bought at my Etsy shop [here].
The cape was white see-through mesh I luckily found in the clearance bin of my local fabric store for 2$ for the entire long, big thing. It's tedious to sew and hem. The top see-through bodice is a ripped-up white pantyhose. xD
 Anna wig, styled by me. =3=
Unfortunately my own costume, supposedly Anna, never made it. The wig was completed and styled for the character, though. I simply braided the wig, cut the bangs, and made a clip-on from the cut-up strands of my sis' Elsa wig. I find the Milk Blonde looks better as the highlight on the Anna wig rather than pure white. :3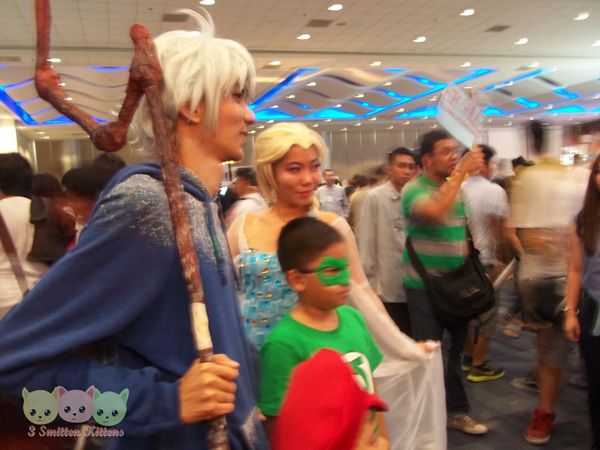 Lots of kids loved Jelsa! My bro and sis were a big hit especially among the kids.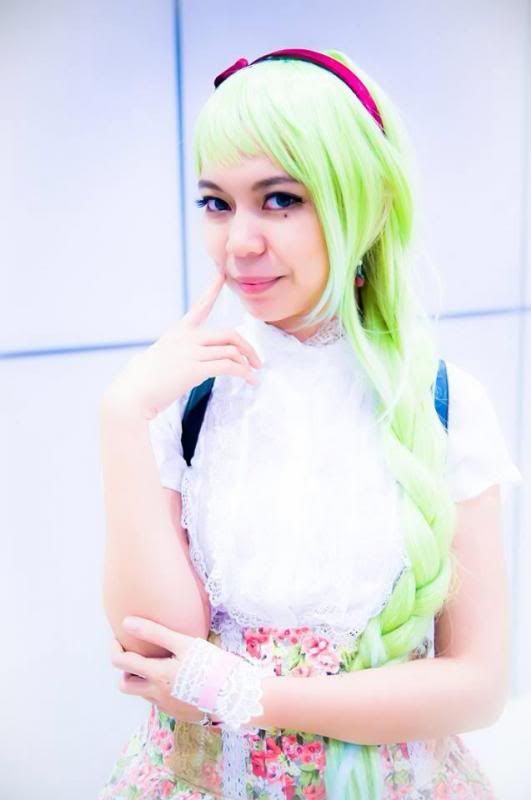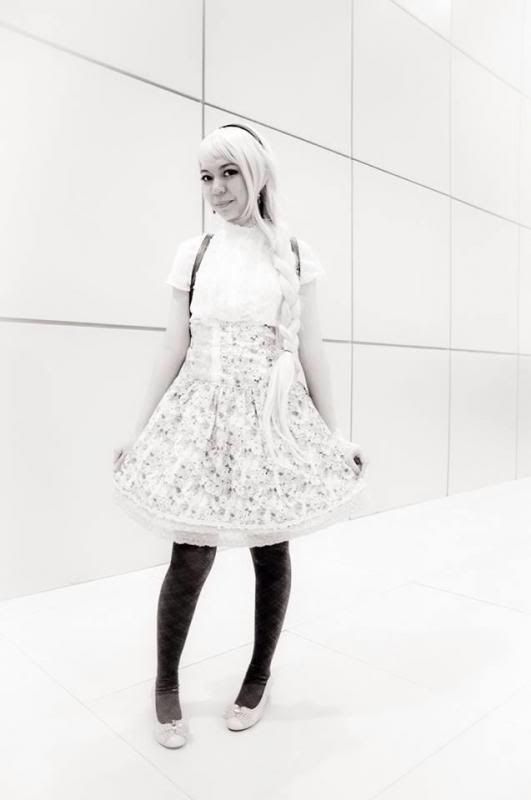 I went instead in the lolita coord from my "How to sew a Lolita Skirt" tutorial. I haven't had proper photos of this coord yet so I'm so happy my sister's photographer friend, Jay, dropped by! I will sew a new skirt for myself again soon and hopefully a new top as well. They've got really good white/off-white fabric at the fabric store now.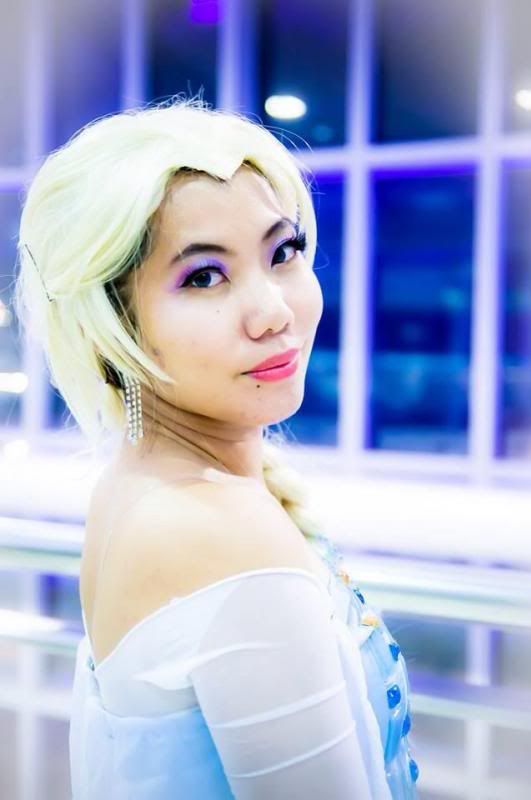 So proud of my brother and sister! I spent all day carrying their stuff and retouching them haha but it was fun seeing them enjoy so much! I'm thankful to everyone who took time to take photos of them and compliment them on the day. Granted I still have much to improve on these costume sets, but I'm really looking forward now to finishing my Anna and taking photos with them again! We intend to have a Fire Emblem: Awakening trio soon, too!
Of course since being in lolita freed me up lots, I had the time to shop for little stuff again in a long while! I'm in love with everything in this haul. The prints are from my beloved buddy Tsuza of Tsuza Art (who also made a lovely Olaf trade with us! We shall feature pics of it soon! bby I still owe you a necklace!) and the stickers and keychains are from artists in the artist tables. Elsa and Anna keybies (my sis now has Elsa) and a faux-cookie necklace from Pandora's Box. Cosplay cards from AJ Cross Cosplay and Nekomi-kasai (Katz) too! <3
I look forward to when these costumes return, better and brighter! <3