EVERYONE WHO KNOWS ME knows that my frustration as a crafter is making and piping fake whipped cream. For some reason (maybe my unsteady hand) it dislikes me, and it can't turn out pretty when I do it, unlike when when the cake artists or those who make decoden phone cases. Then there's that making icing to begin with is a pain. You can use silicone caulk from hardware stores, but you need to thicken them first. The ones that come from Japan are expensive, costing about P600.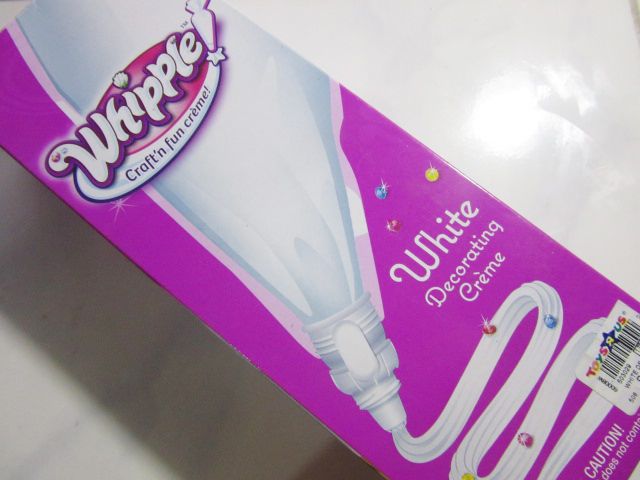 So browsing through a local toy store one day, I saw Whipple Craft'n Fun Creme, which as the saleslady said, is air dry fake whipped cream, retailing at P299 for a plain "flavor" and more expensive for one with two flavors/colors. I decided to grab one, since at P299 and quite a big box, it seemed like a steal.
It comes in a big box, with, thankfully, big enough content inside. I was glad there there was a lot of whipped cream here! The faux whipped cream came in a sealed piping bag with a seal and screw on cap at the piping tip, so you can reseal it with no problem after you've completed your project and not used up all the cream.

The pack, however, does NOT come with a piping tip, so you'll have to allocate your budget for that. Their craft kits for kids that go for P600+ have piping tips and fake food bases for kids to practice on.
Last week, I made macaron shells with Mont Marte Polymer Clay. (Check out our review of the polymer clay here, or you can also look at our tutorial on how to make your own fake macarons here.) I made them on a 1:1 real life scale, which was best to go with this cream, because I had a very big piping tip.
Sorry that I'm not making anything elaborate like a cupcake–my piping skills are very amateur! Then you'd just be looking at a hot mess.
The cream dries to the touch in a few minutes, but for it to dry all the way through, I suggest waiting for over a day. I thought it would be a silicone, rubbery finish, but it dries to a paper-clay finish, only of course finer.
Actually, it smells a lot like white glue when you pipe it out, so I can't help but feel it's just paper clay and white glue, which you can diy if you have fine paper clay to make it into whipped cream. The Whipple cream has the easy of being sealed tight in a convenient piping bag though, meaning you can use it whenever.

Here are the finished macarons!
Have you tried the Whipple cream before for your projects? What did you think about it?
You can buy Whipple Craft'm Fun Cream at toy stores like Toy Kingdom or Toys R Us nationwide.