This weekend's tutorial is a guide on making Disney's Moana Heart of Te'Fiti pendant. The pendant–technically a piece of rock–is iconic to the movie, and is central to the plot.
When I made this tutorial, Moana was only recently released, and high resolution photos of the stone weren't available yet, thus the end product isn't as accurate as I'd like. Someday I may revisit this and make a more accurate tutorial!
Reference from the Moana movie.
Materials:
Polymer clay in greens, pearl white, and translucent.
Scrap polymer clay
Mica powder
Microfine Glitter
Casting Epoxy (I use Castin' Craft) and colorant (I use oil paints.)
Firstly, I made a Skinner Blend using the pearl aqua green clay (my own blend of colors) and pearl white clay. Mica powder has been conditioned into each color to give it more shimmer, and the look of a precious rock. I didn't want the rock to just be one slab of color, so I settled on making a soft gradient for it.
The Skinner Blend is a polymer clay technique for making gradients, and click here for a wonderful tutorial on it.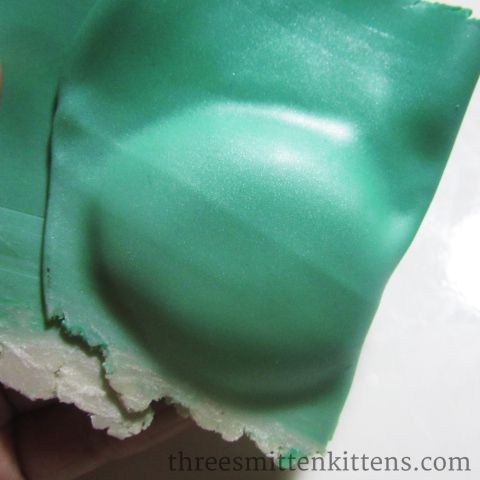 I made the rock shape in scrap polymer clay, and go over it with the gradient. I usually use scrap clay to fill in insides of shapes or molds, so that nothing goes to waste.
Smooth the gradient sheet over with a silicone tool. Now it looks more like a "rock". Notice the rich shimmer thanks to the mica powder!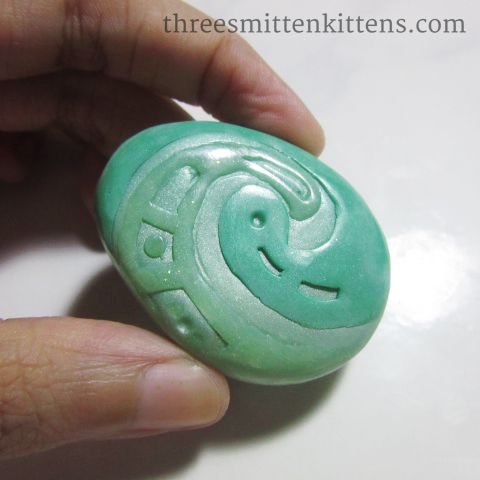 I haven't been able to take enough photos of this process, but next thing I do is roll a very thin sheet of translucent clay mixed with fine glitter, and then cut out shapes from it according to the shapes of the reference. I also cut out a shape from the rest of the gradient clay I made earlier, this time the darker part of it. I then put the cutouts over onto the base gradient rock, smoothing and blending it into it.
I then baked the rock in my oven, and then sand and buff it with a rotary tool. I meant for the stone to become a pendant, so I put in a screw pin into it.
I wanted to give the rock it's "glow", so I mixed some yellow green oil paint into casting epoxy, then coating the base rock with it. I let it cure for a day.
Notice how there's an illusion of the rock "glowing" when it's hit by light? It looks really pretty! *w*
If you're aiming for a more accurate stone, I'd suggest casting the entire thing in Casting Epoxy for that transparent look, and perhaps mixing in some glow in the dark powder!
I hope this tutorial still helped you out, and I may redo this stone when time permits!
xoxo Xarin