This week's blog update is a quick tutorial on one of our most sought-after products: Marinette's earrings from the series "Miraculous Ladybug".
The iconic earrings feature a red dome with five dots on them, mounted on a silver earring base. For this tutorial I'll be using polymer clay and casting resin, to make a semi-transparent dome with dots encapsulated inside, to be sure that they don't fade.
MATERIALS:
Polymer clay, in black.
Silicone putty, or any mold making material.
Casting Epoxy (I use Castin' Craft)
Red colorant (I use red food color)
Silver earring base settings (I used 12mm ones)
To start, I make molds from Silicone Putty with a base that I measured fits the earring base exactly. If you can't make your own mold, or have no mold making material, be creative and use hollow domes from watercolor pans, as long as they fit your earring base! I made two molds here (other one not shown) to make a pair of earrings.
I cut out five dots of polymer clay in black, and then position them into the mold, using liquid clay if needed to hold their place. Do the same for the other earring mold, and then bake in your polymer clay oven following your clay's instructions.
The reason I use polymer clay for these earrings is because most people draw the dots on or use a printed base behind the dome, which will fade over time. Those are surely cheaper, less labor intensive ways to go about it, but if you plan to keep your earrings for years or want to wear them daily, and not just in cosplay, it's worth it to go the extra trouble.
When the dots are baked, I carefully pour a mix of tinted casting epoxy into the molds. Let it cure for at least 24 hours. Don't know how to use casting epoxy? You can check my tutorial on it here.
After the domes are cured, I pop them out of the mold. After that I may or may not need to put an extra coat of glaze or resin on them to make them shinier… and then finally, glue them to the earring base! And we're all done!
It looks straightforward and simple, but is actually a time-consuming progress, however the results are quite cute!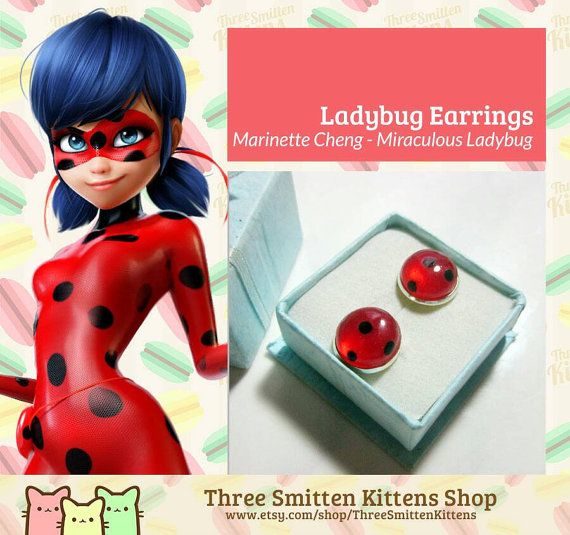 Remember that if you aren't confident in your skills or don't have access to the materials used here, you can always put in an order for these earrings at my Etsy store. Support from my store guarantees that I can keep crafting, and providing free craft and cosplay tutorials on this blog!
Happy crafting!