Hey everyone, and welcome to the second post in the Cosplay Sewing Series. In our first ever post, I discussed pointers on shopping for your sewing machine. In this post, we will be reading on about items that will get you started on your sewing adventure. I've only listed the bare essentials, so over time you might want to pick up more things to enhance your sewing experience, but these ones come highly recommended for me!
As a general tip these items can be bought in craft and sewing stores, and also in National Bookstores and the Notions section in SM Department Stores.
Let's start!
For Pattern-making
In our part of the world (Philippines) you can't buy patterns anywhere, and you only really have access to them if you are in dressmaking courses. But if you remember TLE classes starting from fifth grade, we are all taught how to draft sewing patterns from scratch. Never paid attention to all those classes until I was over with college and wanted to sew cosplay costumes, haha! For most of us here, the sewing starts with pattern-making. These are the items I have for that process.
Hip Curve – Used for marking the curves in the hips for pants, or other similar items.
French Curve – Used for making natural curves in the pattern, like for armholes and sleeves. Before I had this french curve I drew all my sleeve/sleeve holes at approximation and guess haha and let me tell you they really fit much MUCH better if you have a French Curve to measure them with. This set (along with the hip curve) was bought from National Bookstore, at their crafts section. (where they have facepaint and sewing kits, etc.)
Tailor's Chalk – for marking on fabric; the marks easily go away with washing or ironing. There are also pencil and pen type markers in the market.
Measuring tape – for taking your own measurements. It is best to always have another person instead of yourself take your measurements.
Pattern Paper – there are different varieties sold in different countries; the ones sold her are "ribbed" and have lines to make sure your patterns are straight and equal. But you can also use any sturdy scrap paper you have on hand; I know some who prefer their patterns on a sturdier board. The pattern paper I have pictured here can also be easily bought from National Bookstore, and if you still have TLE classes your teacher may be selling it in class. =3=
Rulers (not pictured) – Clear rulers make marking easier, but out of personal preference I like metal ones.
For Cutting and Trimming
Fabric Shears – My shears are actually all-purpose scissors, but I dedicated them for fabric use only… mostly. xD In general, thou shall not use them to cut anything else, especially tacky things like tape (never duct tape!!). I sharpen them regularly as well.
Seam Ripper – aka your best friend. It doesn't matter if you are a pro seamstress sewing for decades or a total newbie; mistakes happen. You sew something the wrong side up, you sew a non-straight line–it happens. And when it does, this is your bestie. Mine is a Clover brand, which is really sharp. In the Philippines however you can only easily get the super cheap ones for only like, 7PHP and I have one and believe me, it was PAINFUL to use. The thing was nothing close to sharp, and made you exert much force. If you can find and get a good seam ripper on sale, I say grab it as it is a good investment. (also don't use it for silly things like poking glue and tape, you know.)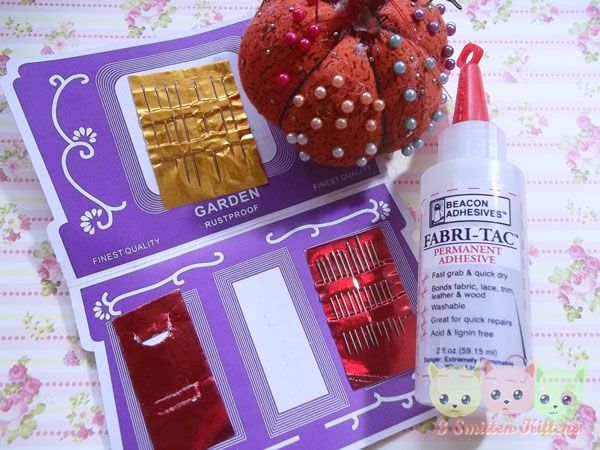 For Making a Mock-up, and Hand-Finishing
There are many times, even when having the fanciest machine, that nothing beats doing something the traditional way, by handsewing.
Hand Sewing Needles – a set like this is easy to purchase anywhere. Use the thinner ones for finer fabric and bigger ones for thicker fabric.
Pins – Pearl-head pins are easier to spot, so I prefer them to the "aspile" ones which just have a flat head and is better off used for making elaborate skirting designs on a restaurant table.
Pin Cushion – the Tomato type is easily available in the market. For character the one I am using is a pumpkin. You may also want to pick up an emery cushion, usually shaped as a strawberry. You can sharpen needles and pins by pushing them in and out.
Machine Needles (not pictured as I didn't have any spares hoho) – I didn't have any spares (boo!) but it's always good to have some handy. My needles just love to break just when I'm about to finish a costume haha. The "all-purpose" needle size that is recommended here in the Philippines is a "size 14". However, for different fabrics and fabric weights, you could use a different needle.
For very light fabrics (chiffon, organza) use a 70/10. (In the Philippines we just say "Size 10")
For light fabrics (silk, satin, lining fabrics) use a 80/12.
For medium-weight fabrics (cottons, cotton mixes, katrina, linen, the usual sorts you use for costuming) use a 90/14
For sorta-heavy coat/trouser fabrics (gabardine, tweed) use 100/16
For heavy fabrics (denim) use a 110/18
Fabric Glue – Sewing everything on is the "must" and the "proper" way to do things, but there are many things better solved by gluing them on. I do not recommend hot-glue for fabric as it can damage your fabric. Many people swear by Fabri-Tac, which is by far the best fabric glue I have used to even stick metal components to a costume, without damaging the fabric itself. For rhinestones I also use Jewel-It, or you can also use Gem-Tac (which is available at the Notions section of SM Department Stores for Philippine readers).
Thread
Thread can be easily bought anywhere, everywhere, and there are even peddlers hawking these for uber low prices at the markets. Two brands are commonly available locally–Astra and Apple. Apple is cheaper and comes in bigger spools, and Astra comes in smaller spools but their threads are of better quality and have a beautiful shine to them. You can also purchase serger thread for thread colors that you often use (in my case, white). If you want savings on thread, you can check fabric warehouses and stores for old thread–these usually have minor discoloration and are dusty, and if you don't mind that, its a lot of savings. The blue thread here has a bit of dust and is an "old" thread.
Thread is very important; it's a basing in costuming to match your fabric to your thread so the stitches just vanish into the fabric. Bring a swatch of your fabric when you're out buying thread so you are sure that the color matches.
Bobbins (not pictured) are also very important. It is good to have a lot in stock for every color that you plan to use while sewing. If you buy sewing machines, they usually come with one or two free bobbins, but since I use many other colors I probably have around a dozen more. =3=
Finishing, snaps, closures, etc.
Lastly, here are items I think are great to have in-stock for the finishing parts of your costume.
Bias tapes – ready-made bias tapes are very cheap and already come in many colors. You can make your own, but if you can buy some for 10PHP why trouble yourself. =_= This is useful for many things–that thin bias strip on a costume, or for sealing in raw seams. I always have a pack in common colors (black, white, red).
Shirring Elastic – If you truly want to make your items "free size", creating a shirring for them is the way to go, and for that you need shirring elastics. I am fond of making lolita skirts so I am practicing my shirring. For cosplay costuming, this is hardly necessary though.
Garter Elastics – I have a massive roll of garters at home. Again it comes with making lolita skirts and pettis, but I find that if I had to make something like shorts or trousers and I can decide between elastics or sewing in a zip, I would choose elastic garters 9 over 10. That one time is if the trousers really had to look tailored (say, for a black-suit set ala Final Fantasy VII Turks). But for costumes that appear more casual and certainly if the costume has "beach" spelled all over it, you are better off using garters.
Velcro (aka "Magic Tape") – More popularly known as the strips that close your sneakers and sports shoes, Velcro is also loved by many for snapping costumes and armor parts shut. It is always a good idea to have a roll of it in white or black.
Zippers – There are regular zips and invisible zips and jacket zips available in many colors and lengths.
Hook and Eye – usually used about regular zips for added closure (meh why can I not thing of better description meh)
"Automatics" – this is what we call them locally, but I have no idea what else they are called. They are sort of like invisible buttons, and I prefer them as I dislike sewing buttonholes, haha!
An assortment of buttons (not pictured) – over the course of time I and my mom have built up quite the button collection. We take some off of old clothes we no longer use.
0o0o0o0o0o0o0o0
So there's everything I think you need to get started! Did I miss anything else? Hit me up in the comments if I did. Hopefully I get to demonstrate a simple, easy-to-do sewing project next time in this series. Have a nice day!
xoxo
Xarin