Berets are very popular in the lolita fashion scene, and every brand seems to always be releasing a beret to match their current collection. Lolita berets are mostly, from observation, flat and barely serve the purpose of hiding or storing hair (unlike medieval/Tudor berets) and serve a mostly decorative purpose, almost just grazing over the hair/wig instead of being a snug fit. In this tutorial, we'll make a beret like that! It's quick, fun, and super easy.
Let's start with the materials we need:
Your fabric
Interfacing/ Pellon (to give your fabric of choice stiffness and form)
Another color/pattern of fabric (optional)
Bias tape (for sealing in the edges)
Embellishments
First off, let's start with the pattern!
A beret pattern is made up of a simple circle. To ensure a snug fit, measure around your head first to get the circumference. You might want to measure around the place where you'd like your beret to go around. Then, get the diameter from this circumference by dividing  your circumference by pi (3.14). Math for fashion! WHO KNEW RIGHT?!
Map out the diameter in your pattern paper (any paper will do) and use it (and a compass) to draw a perfect circle. This is the inner ring of our circle. It will go around your head.
Next, add inches to your diameter, depending on how wide you want the brim of the beret to be. 1.5 to 2 inches is ideal. In this post I added 2 inches and seam allowance. Again, using your compass, draw out the outer circle.
Cut out your pattern, You should end up with something like this.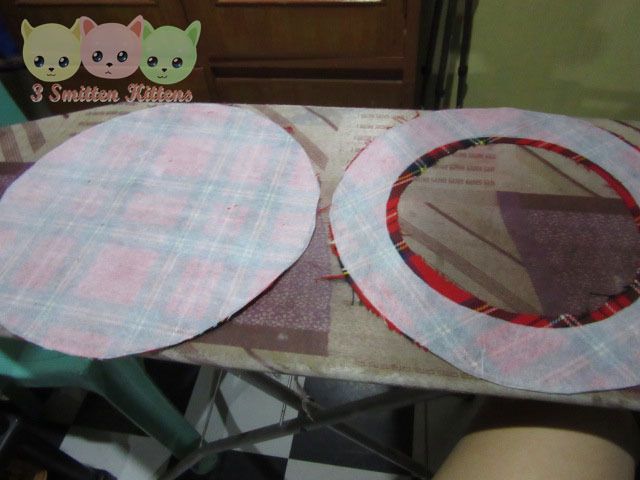 Now, use the pattern to cut out your fabric. Cut a piece of fabric that is a whole circle based on the outer ring(the middle isn't cut out), and another with the middle circle cut out. Also cut out their matches in interfacing/pellon. I recommend using interfacing/pellon because it makes the beret stiff and not lose it shape when worn.
My fabric with the cut-out has allowance, but that's because the inner hole of my pattern was too big for me OTL because I didn't measure and just guessed when making this pattern, basing it off the tutorials online. Other tutorials give a set measurement for the circle and it's too much space for someone like me (asian) that has a smaller frame. THAT'S WHY YOU SHOULD MEASURE K GUYS.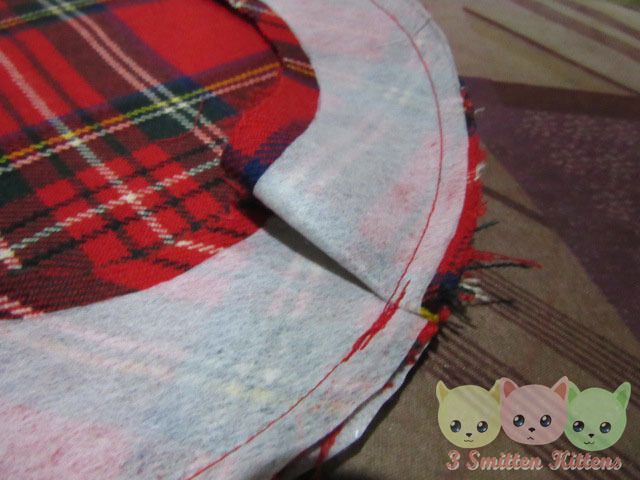 Sew your two pieces together on the wrong side, with the right side facing each other. If something like this (in photo) happens, just fold over  and sew over it as displayed. You'll see most hats and other berets have this at the back, so don't mind it too much.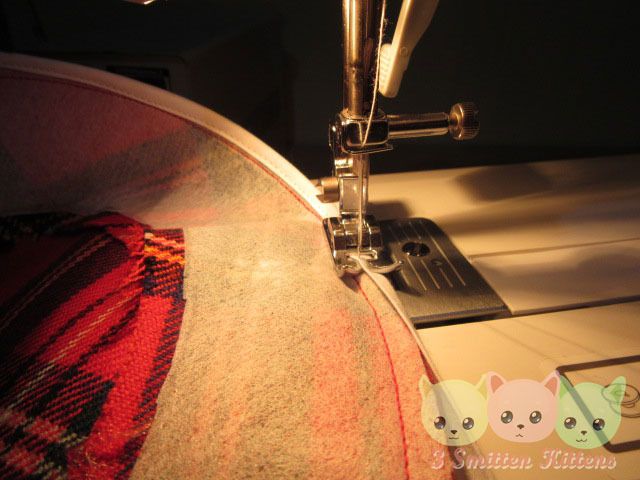 Trim the edges and seal them by encasing them in bias tape. I simply fold over the tape in half, and sew it around the edge. This is a cheap, easy way to seal up your seams if you don't have an overlocker/serger, and it serves a decorative purpose too! It looks nice. :3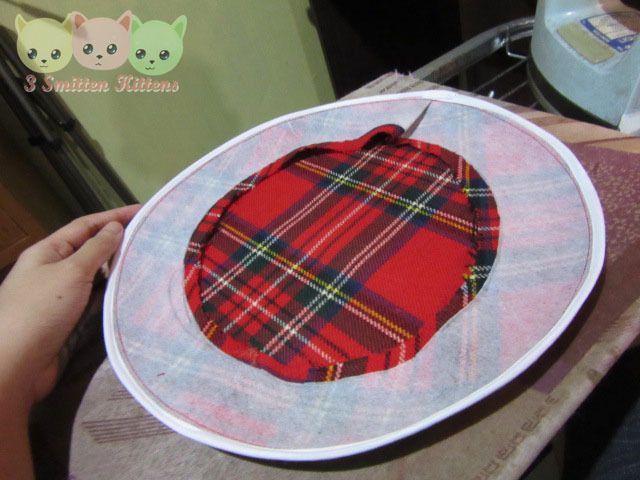 Then you should have something like this~ Almost done!

Now all we have to do is make a band to go around the inner circle. You can choose a different color for decorative purposes. Figure out how thick you want it to be, and take that measure, add a seam allowance (I normally go for half an inch) and multiply it by two. You'll be cutting out a rectangle slightly longer than your inner circle circumference that is that wide.
Say, if I want my band to be half an inch, I'd add another half to it, and multiply it by 2 = the band would be two inches wide.
Fold it down the middle and iron it. (picture above) You may also want to tuck in the allowance and iron it to set it, but I'm comfortable with folding it as I go.
Depending on the thickness of your fabric, you may also want to put interfacing on it! A sturdy band looks way better than a flimsy one.

Sew it into place around the edge of the inner circle~
Now when that's done, congratulations! Your beret is complete!!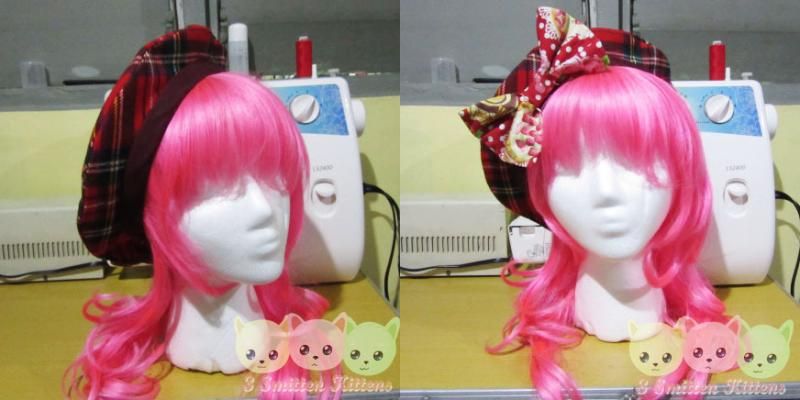 You can customize it by putting embellishments like pinning on some bows and other decals. Most lolita berets are plain colored with embroidery designs, so you may also try your hand in that eventually! If your beret came out loose, you can sew hairpins or hot glue some clips into it to help hold it into your wig/hair.
Goodluck!
xoxo