IN 2014, I started dressing up in J-fashion inspired clothing.
I wore it to events, wore it to go out shopping, wore it walking down the streets, along my neighborhood, in the wet market, riding a bus, riding a jeep, just to do groceries…
I dressed up when there was every reason to, and also when there was no reason at all.
I find a lot of different types of fashion appealing. While I mostly like to dress j-fashion inspired, I also like to take cues from vintage, pin-up and retro. I've always admired photos and models and icons of them, and in 2014 I finally decided to go out and brave it and dress up how i'd like to.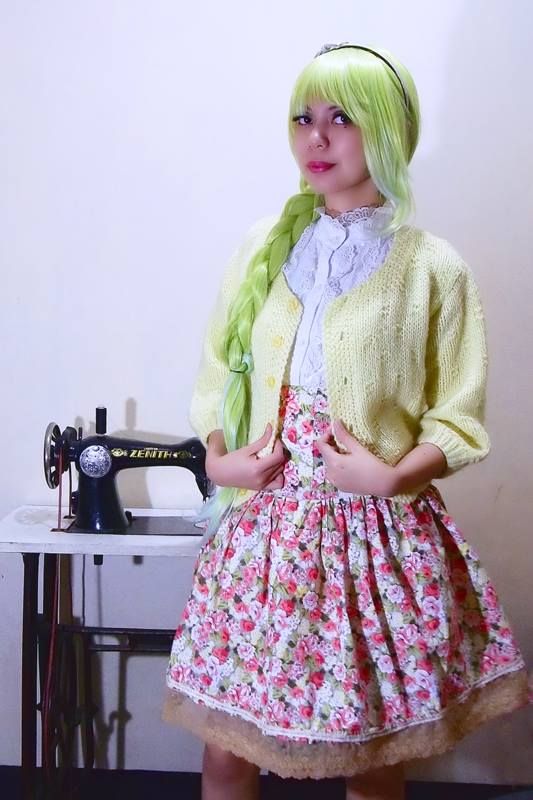 I made my own lolita ensemble by making a skirt and petticoat and coordinating it with a thrift store blouse and knit cardigan. Everything, except the skirt, were things that I already had in my closet. The blouse is even my mom's or my sister's, and I just resized it. I have a tutorial for the skirt uploaded in this blog, albeit outdated and needs to be polished with finer sewing techniques.
I wore it to a local anime-themed convention, and the response was heart-warming. People liked it, some people asked for photos, or asked about what I was wearing. Don't get me wrong–I wasn't swarmed by people, these are just a handful–but it's always heartwarming when people appreciate something you picked and put together, a reflection of YOU.
And more importantly, I was happy with myself, and what I wore. I made another dress. I bought cute pieces that were out at the store. Expanding a wardrobe is a pain on the wallet, so I would also scour through thrift stores (ukay-ukay) and offbrand stores and bazaars. It helps that I can use a sewing machine fairly well, make alterations, and tear apart things to make something new out of them. I put them on and complete a look from head-to-foot, even matching my wigs and makeup. I started going out all dressed up as if there would be a convention or like I'm someone walking the streets of Japan, and not the Philippines where, honestly, dressing up isn't the norm.
I get glances and stares, and of course I feel so out of place and overdressed, but I don't plan to stop this year. (In fact, I felt rewarded for all that when at the end of the year, I got the chance to model for lolita brand dolldelight.)
It's not easy for me. I live in a depressed area so it's not like I just get into a car and go shopping at Aura and The Fort and Makati. Going out all dolled up is not that convenient for me. I have to walk for a good ten minutes up steep slopes and even a palengke (wet market) to get to where I ride a JEEP to get to anywhere. I commute in my "kawaii" clothes, so to speak. (For those curious, I live in Bagong Silang, which is notorious as a place for ex-convicts and gangs. It's not entirely as bad as people make it out to be, but it's also not the place where you'd expect someone in the fashion hobby to come from.)
I've heard girls hesitate dressing kawaii or in j-fashion because it doesn't fit their lifestyle and feel it's just for people who are among the elite, or shop in top "rich kid" shopping spots where dressing up wouldn't be too out of place. It's more convenient for them, that's a reality, but I hope you don't make it an excuse for you to not try it yourself.
You'll most likely get asked questions. "Why are you dressed like that?" is common. "Is that your real hair?" is even more common for me! I just smile and respond appropriately, saying that's just how I like to dress, and yes, it's a wig. xD If jejeweebs other people make wrong assumptions or remarks ("hey look she's cosplaying!" "omg bro look it's cosplay!" "hey look it's *insert mainstream anime character here*") about how you're dressed, don't take it to heart. You can politely correct them, but since I think that's too much of a hassle, and could arise in conflict, I just laugh it off. Remember, not everyone knows about the fashion you're dressed in, so don't hold them grudges for what they don't know. It's not anyone's fault that they aren't educated in fashion and what subcultures are called, so don't blow your top over that one.
Scared of the critics, the people that are actually pointedly trying to be rude to you? Learn how to take them all in stride. The number of people who would say rude things is a very, very SMALL minority. And you can usually tell that their rude remarks are fueled by their own personal insecurities, so I just feel bad that they have such a miserable life that they have to make such a big fuss over someone who's just dressed differently.
The majority of the people will, instead, smile.
"Kawaii" and doll-inspired fashion is powerful in the way that it's so light and fun and colorful or whimsical that the natural reaction for most people to it would be to smile or find it interesting. I think it speaks to the child in all of us, and no matter how jaded and old someone gets, a lot of people are still able to appreciate all the fun and innocence that gets reflected in what you wear.
The most priceless remarks I hear are from children. In my neighborhood, a lot of the kids know me, and I like it when the little girls greet me and say how they like what I'm wearing, or I "look like a doll", or say they like my cookie necklace or some other interesting accessory. Even kids in the malls will call their siblings to point at me, ("look! I like what she's wearing!") or will call their moms ("mom the girl behind us looks cute! look at her!") and all the honesty from them is just so heart-warming. Adults (usually ones with kids, I find) will also give compliments once in a while, or try to show you to their kids, which I think is cute. I'd like kids to grow up and not be afraid to keep all the whimsy and cute from their childhood, so it's very touching when parents point out to me and tell their kids there's nothing wrong about still being a kid at heart even when you're all grown up.
I feel like how we dress up also affects how we act and treat others in public. Dressed up all cute and fun, I feel like I'm even more fired up to be positive and make my day fun and not let anyone rain on my parade.
If you've always wanted to wear your fashion in public, but you get scared or shy, I encourage you to start and make this  year your year. I started it in 2014 and as I've told you, there's more ups than downs. There's the slight chance that you'll make someone else's day and make them smile, but what's most important is you yourself will be happier.
This 2015, I plan to open up my own personal style website. I always wanted to separate my more fashion-oriented content from this website (threesmittenkittens.com) since this one is more oriented towards crafts and cosplay. I don't plan to stop dressing up kawaii this year!
What about you?
Looking forward to seeing your own coords and ootds for 2015!
Xarin